---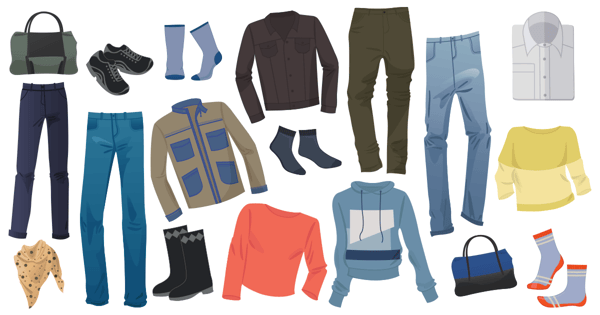 A trip to New England in September or October is a magical experience as trees in the region transform into a dazzling mosaic of colors. There is plenty to see and do on a tour of New England during fall, with many activities focused on the harvest and foliage.
New England Fall Weather
What to pack for trips during early fall can be tricky because temperatures may fluctuate from warm one day to chilly the next. The average New England fall temperatures may be anywhere between the 30s to the 60s, with crisp air. Monitor the weather before you pack to ensure you have everything you need to dress like a New Englander!
What to Pack For Trips To New England
We've put together a list of 10 items to pack for your guided tour with YMT Vacations to get the most out of your New England getaway.
Must-Have Apparel for New England
Your Fall exploration of New England won't be complete without considering these options.
1) Tops and Base Layers
Start with the basics such as simple tee shirts, light blouses, and tunic tops. These will be core items to mix and match with your bottoms for the duration of your vacation. Add several base layers, which can be worn in a range of weather conditions. If the forecast predicts an extreme dip in temperatures, pack one or two full sweaters that can be worn over your base layer for added warmth.
2) Comfortable Bottoms
Jeans and khakis are great options for both men and women, depending on your personal preference. A worn-in pair of jeans can be matched with any one of your tops. Khaki's allow for plenty of airflow, especially during walks. Women may also consider leggings and yoga pants if those options are more appealing.
3) Waterproof Boots or Sneakers
A leaf-peeping tour in New England can mean an active level of walking. Even a tour that includes visiting historic landmarks will require some time spent on your feet. Invest in a pair of waterproof shoes, whether sneakers or boots, that allow your feet to remain comfortable and cushioned. Purchase the shoes at least a few weeks before your trip to break them in properly.
4) Seasonal Accessories
Think about items you may need to put on or take off in changing weather. Hats, scarves, gloves, and sunglasses are accessories that may be needed at one point or another. These items are typically light and compact enough to fit whether you are checking luggage or just packing a carry-on.
Be Prepared For Any Situation
Packing smart isn't just about the clothes you bring. Here are some important things to consider when vacationing.
5) Umbrella or Rain Jacket
What to pack for a fall weekend getaway to New England includes a travel-sized umbrella. It will take up very little space in your luggage, but keep you dry during sudden downpours. You can easily tuck it into the side pocket of your backpack or inside your purse. A rain jacket with a hood is also a good option if you prefer being hands-free.
6) Bug Repellent and Itching Ointment
While mosquito and tick activity drops off throughout autumn, it's better to have repellent, just in case. Similarly, be prepared to combat itching from allergies or bites with a soothing ointment. Calamine lotions containing hydrocortisone or agents like lidocaine will help reduce your discomfort. A paste of baking soda and water may also be applied topically to help diminish the itching.
Travel Accessories to Bring in the Fall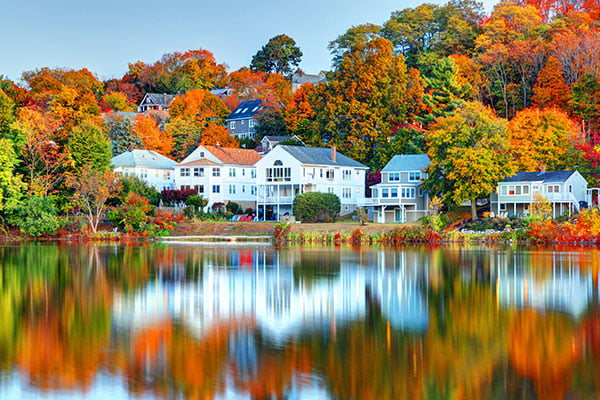 7) Camera
Looking to take high-quality images of the fall foliage in New England? Bring a trusted camera. Cellphone cameras are great for selfies and quick shots to send to your family back home, but may not display the best quality when printed. Here are tips on what to look for when purchasing a camera for your travels.
8) Binoculars
New England's wildlife is active in the fall. From migrating hawks to deer and moose on the move, pack your binoculars to get a closer look. If you don't come across wildlife during your guided tour, binoculars will still come in handy to give you a closer leaf-peeping experience.
9) Cash
Some of the best experiences during any travels include interacting with locals. You may come across interesting folks in New England when shopping for mementos at local boutiques. While some establishments may take credit cards, others will not. Be prepared to pay cash for unique finds along the way.
10) Prescription Medication
Triple-check your hand luggage to make sure you have packed all the required medication you will need during your vacation. Be sure to fill your prescriptions fully before departing for your trip to avoid running out. You might even want to bring extra as backup in case your return flight is delayed for any reason. Forgetting medicine can ruin the best vacation.
What to wear in New England in September
New England vacation requires a degree of versatility for a variety of weather conditions. Be prepared to add or shed layers at a moment's notice to take in the sights and sounds of the region with comfort. And in order to further enjoy your vacation, pack items that add to the convenience and pleasure of your trip. To learn more about YMT Vacations New England guided tour destinations, call our Travel Consultants at 1-888-756-9072.
---