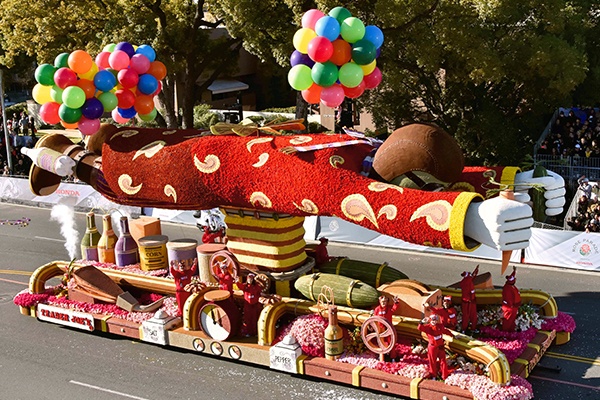 If you're one of the lucky million revelers to descend on Pasadena for the 130th annual Tournament of Roses Parade, which features flower-covered floats, spirited marching bands and high-stepping equestrian units, you will certainly want to come prepared. Whether you plan to experience America's New Year Celebration in comfortable pre-purchased stadium seating, camp out for free curbside spots, or view the spectacular floats at a pre- or post-parade event, this helpful guide will help you plan and enjoy the parade fully.
Rose Parade Key Details
2019's parade takes place on Tuesday, January 1st, 2019, from 8 AM to 12 PM

The parade takes 2 ½ hours to cover the 5 ½ mile long route down Colorado Boulevard, come rain or come shine.

The average temperature range is 50° F to 68° F. The mornings usually warm up around 10 AM, but until then, layer up, enjoy a warm drink, and complain about the cold like a true Angeleno!

The Rose Parade starts at 8 AM PST sharp, with ABC's coverage beginning at 8 AM PST/11 AM EST, and NBC's programming starting at 8:30 AM PST/11:30 AM EST.

The parade's American television audience is 50 million, with 30 million international viewers.

You should be seated by 7:00 AM if you're at the start of the parade west of Fair Oaks Ave. Otherwise be at your seat by 8 AM. Regardless of where you are seated, plan to arrive in the area at least two hours prior.
Rose Parade Seating
Every person must have a ticket to sit in the reserved grandstand seats. The only exception is for children two years of age or younger who can stay on an adult's lap for several hours. Tickets for limited wheelchair-accessible seating at grandstand locations are also sold through Sharp Seating Company.
Non-Ticketed Viewing Areas
Curbside viewing is also available on a first-come, first-served basis. Pasadena city ordinance allows the occupancy of curbside space along the parade route beginning at noon the day before the parade. For tips and rules about curbside viewing, contact the Pasadena Convention and Visitors Bureau at www.visitpasadena.com or (877)793-9911.
Rose Parade Safety
Prohibited items along the parade route include: weapons, sticks, poles, drones, glass bottles and any items which may cause injury or interfere with the parade or spectators' enjoyment of the parade.
Sanitation facilities are located adjacent to each grandstand.
If it does end up raining, umbrellas are not allowed at the grandstand.
Rose Parade Parking and Transportation
Plan to arrive 2 hours prior to the estimated time of arrival of the parade for your seating area. For example, if you are sitting at the beginning of the parade route you should park by 6 AM. If you are sitting at mid-parade you should park by 7 AM.
Reserved parking for automobiles, buses and recreational vehicles is available for purchase through Sharp Seating Company at (626)795-4171; City of Pasadena at (626)744-6440; LAZ Parking at (626)578-1705; Easy Parking Service at (626)286-7576; and Colorado Boulevard Parking at (858)692-0868 or (949)295-6537.
Paid parking is also offered on a first-come, first-served basis at various lots and parking structures near the parade route. Overnight parking on Pasadena streets begins at noon the day before the parade for that evening only. All "No Parking" areas and red curb zones remain off-limits, and vehicles in violation will be subject to impound and a fine. There is no parking allowed on the parade route itself and illegally parked vehicles will be impounded.
Pre-Parade Event
Float Viewing Decorating Places
Location: Rosemont Pavilion: 700 Seco St., Pasadena
Date and Time: December 28: 11 AM–6 PM; December 29: 9 AM–6 PM; December 30: 11 AM–5 PM; December 31: 11 AM–1 PM (advance purchase only) .
$15 General Admission (free for children 5 and under).
Post Parade Event: A Showcase of Floats
Location: Sierra Madre Blvd. and Washington Blvd., Pasadena
Date and Time: January 1: 1–5 PM January 2: 9 AM–5 PM (Senior citizens and disabled visitors welcome 7–9 AM) • $15 General Admission (free for children 5 and under, ticket sales end at 3 PM, last entry 4 PM) • Please note that Post Parade utilizes a clear bag policy for security
Post Parade Shuttles and Parking
Parking near Post Parade is extremely limited. Free shuttle service will be available from two locations in Pasadena. Guests using shuttles enter the event through a priority line. Ticket sales at Park-N-Ride locations end at 2:30 PM. Advance tickets are also available through Sharp Seating Company at (626)795-4171 or at www.sharpseating.com.
Shuttle Locations: Pasadena City College: 1570 E. Colorado Blvd. (enter off Del Mar Blvd. or Bonnie near corner of Hill Ave.) Rose Bowl Stadium Lot B (January 2 only)
Date and Time: January 1 (no Rose Bowl shuttles): 12:30–2:30 PM (final departure) January 2: 6:30 AM–2:30 PM (final departure) • Shuttles depart approximately every 5 minutes.