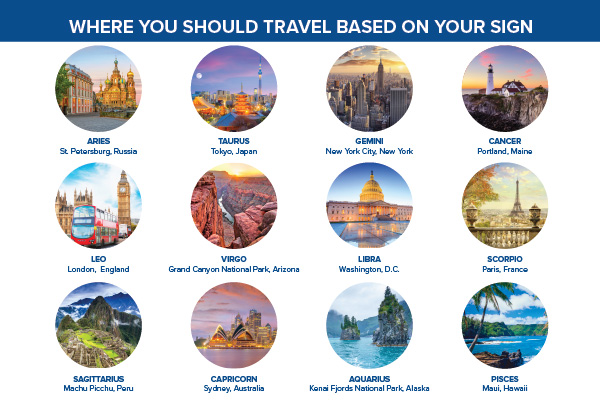 Are you trying to figure out where to go for your next vacation? You can look to the stars to help you decide! We've put together a helpful list of the best vacation destinations for each sign, from charismatic Capricorns to regal Leos. What's your sign? And where will it lead you?
Aries (March 21 - April 19) - St. Petersburg, Russia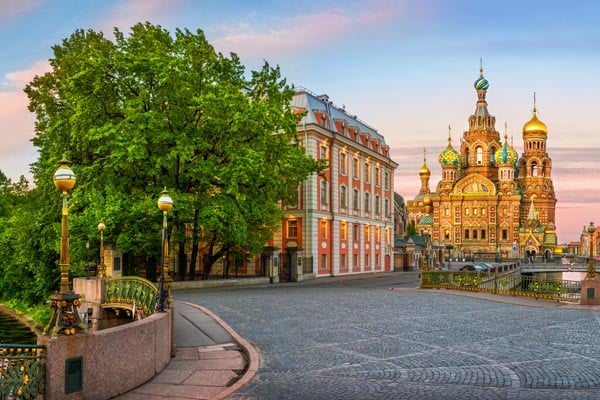 Aries are always up for a challenge. Ambitious, bold, and utterly fearless, they don't know the meaning of the term "comfort zone." Intrepid travelers, they're most comfortable off the beaten path. St. Petersburg, Russia's cultural capital, provides them with the adventure they crave and the uniqueness they need out of a vacation.
Taurus (April 20 - May 20) - Tokyo, Japan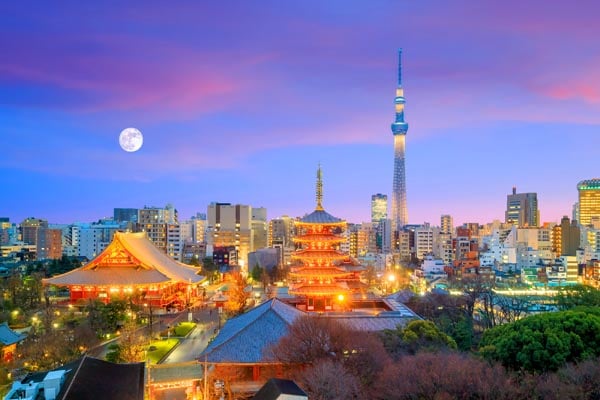 The quintessential earth sign, practical Tauruses appreciate nothing more than the seamless fusion of form and function. That's why they should visit Tokyo, a city full of brilliant design and carefully considered details. Tokyo is known for its clean streets, beautiful architecture, and incredibly kind people. Taurus tourists will appreciate Tokyo's signature thoughtful touches, from its impeccably plated food to its exceptional public transportation system and wide sidewalks.
Gemini (May 21 - June 20) - New York City, New York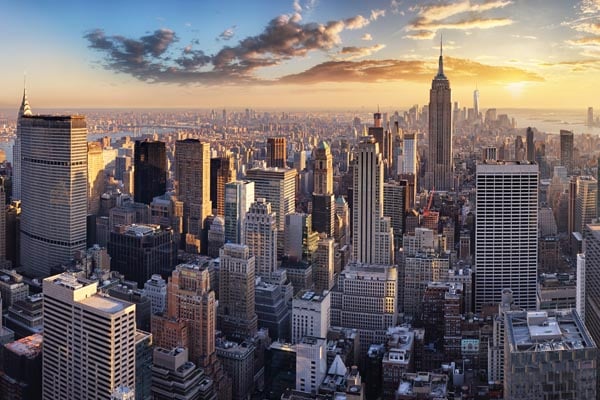 Active, curious, and totally dedicated to making the most out of each moment, Geminis often wish there were more than 24 hours in a day. They want to get up early and stay out late on their vacations, taking full advantage of the opportunity to explore and experience something completely different. Geminis thrive in the city that never sleeps. New York City's countless sightseeing opportunities and go-go-go energy make it the ideal Gemini vacation destination.
Cancer (June 21 - July 22) - Portland, Maine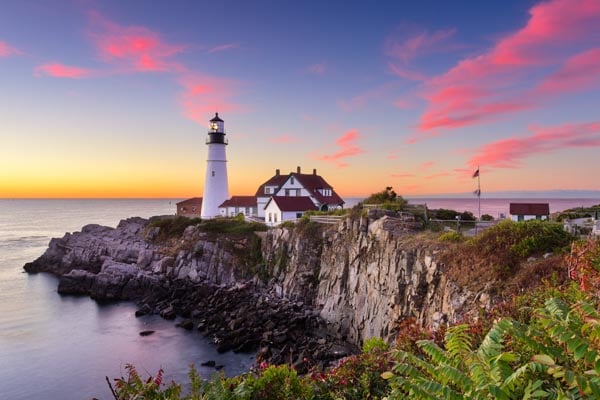 Cancers, represented by the crab, are drawn to water. Social, compassionate, and charismatic, they crave connection. They love few things more than long conversations during leisurely walks on the beach or over a delicious meal. Portland, Maine, provides all that a Cancer needs in a vacation.
Leo (July 23 - August 22) - London, England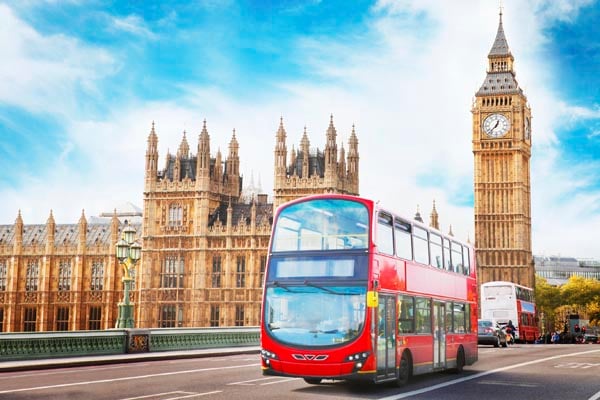 Leos are regal, passionate, confident and brave. The kings and queens of the zodiac jungle, they appreciate the finer things in life. The refinement of and excitement London, where history was made and those other royals reign, makes Leos feel right at home.
Virgo (August 23 - September 22) - Grand Canyon National Park, Arizona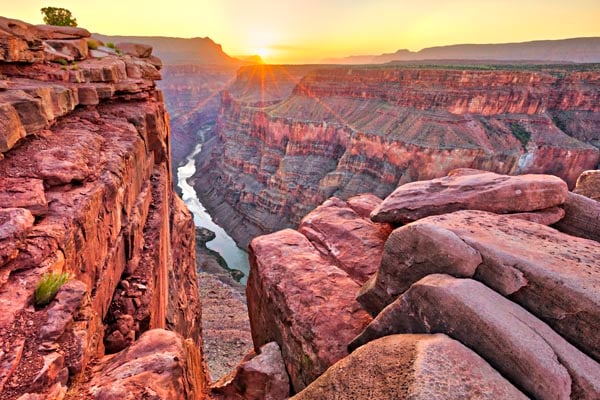 Virgos are drawn to nature. These earth signs are hard workers and deep thinkers who feel their best surrounded by trees, mountains, and flowing water. Nothing feels better to a Virgo than the breeze on their skin, the sun on their face, and views that go on for miles. The Grand Canyon offers everything Virgos need in a vacation.
Libra (September 23 - October 22) - Washington, D.C.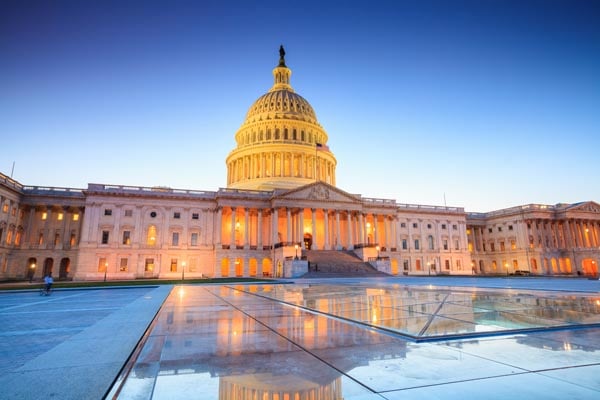 For Libras, life is all about balance. They work hard and play hard, fully appreciating the well-earned fruits of their labors. Washington, D.C. appeals to Libras in numerous ways. Its monuments and memorials are elegant, symbolic, and visually harmonious. The spirit of the city also aligns with Libras, whose passion for justice and fairness is one of their defining characteristics.
Scorpio (October 23 - November 21) - Paris, France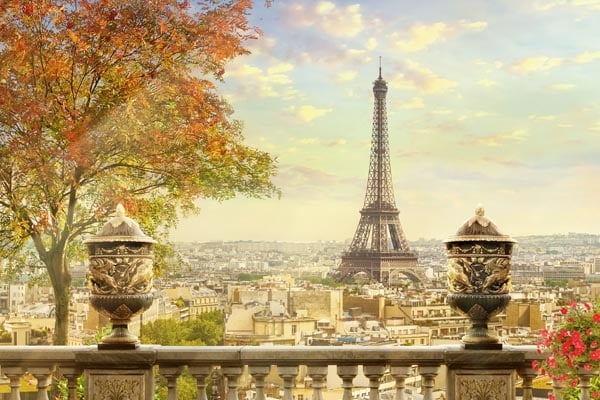 Scorpios are known as the most passionate of the signs. Both sensitive and decisive, they know what they want and won't settle for anything less. Paris, the romantic City of Light, is at the top of the Scorpio bucket list. Fierce, fashionably, and famously beguiling, the French capital is the ultimate Scorpio escape.
Sagittarius (November 22 - December 21) - Machu Picchu, Peru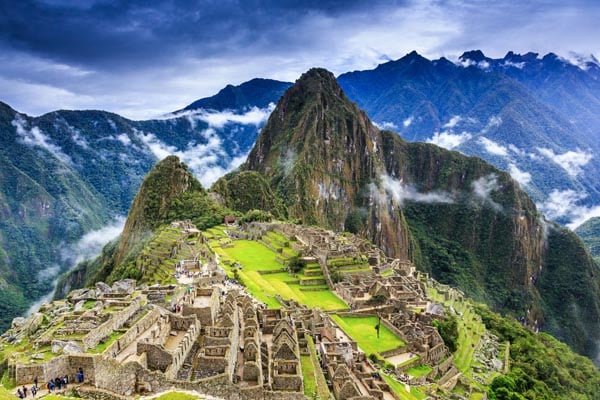 Sagittarians love the unknown. Wanderers and explorers at heart, they have an insatiable urge for adventure and knowledge. Unafraid to try something new, they feel pulled to some of the most distant corners of the earth. Machu Picchu, the "Lost City of the Incas" in Peru, is tailor made for Sagittarians. High in the Andes, it is a mysterious and ancient place whose secrets make it all the more intriguing.
Capricorn (December 22 - January 19) - Sydney, Australia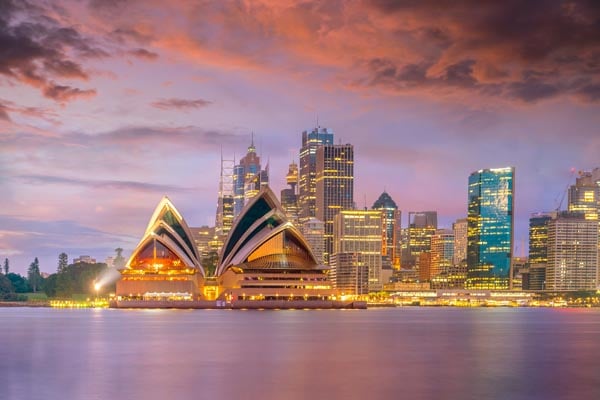 Capricorns are tenacious and focused—but their natural playfulness always keeps things fun. Optimism and charisma come easily to Capricorns, for whom Sydney, Australia is a perfect fit. The easygoing yet prosperous city mirrors the best Capricorn tendencies.
Aquarius (January 20 - February 18) - Kenai Fjords National Park, Alaska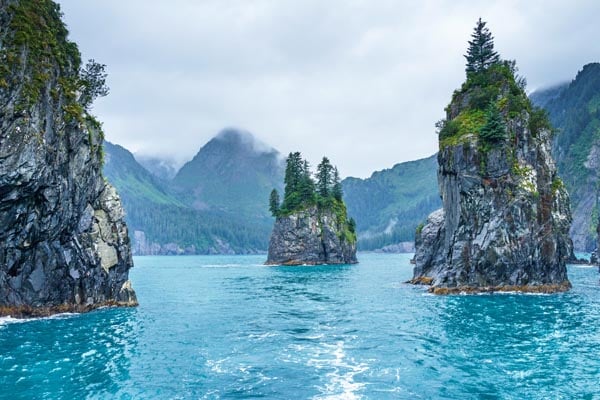 Aquarians think big. They are creative problem solvers with lofty aspirations, strong convictions, and a steadfast refusal to be held back by anything. Kenai Fjords National Park in Alaska is a fine fit. The dramatic beauty of this vast wilderness filled with mountains, forests, the ocean, and nearly 40 shockingly blue glaciers shows nature at its least tamed. Globetrotting Aquarians are sure to enjoy the wild grandeur of Kenai Fjords.
Pisces (February 19 - March 20) - Maui, Hawaii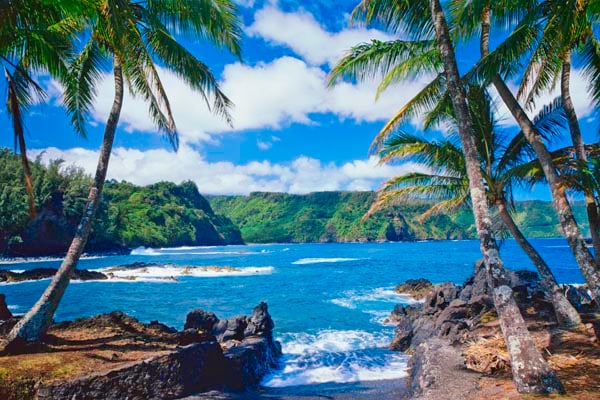 Pisces are born optimists. They are both wise and kind, driven by compassion and irresistibly drawn to beauty. They seek out loveliness, and are happiest in the water. Maui meets all of a Pisces' needs. The sounds of the surf and rustling breeze, the colors of a beachside sunset, and most importantly, the refreshing feel of saltwater on their skin bring Pisces utter joy

Book a Guided Tour with YMT
A guided tour will make planning simple when you're looking to travel. It's easy to cross a new city off your bucket list. You can start planning a trip to the best vacation destination for your sign. With our help, you can spend more time enjoying your trip while we take care of the details. To learn more about YMT Vacations guided tour destinations, call our Travel Consultants at 1-888-756-9072.
.