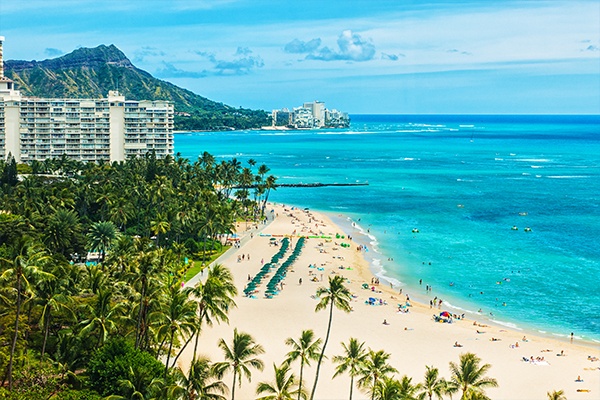 Hawaii is a daisy chain of islands stretched out across the Pacific Ocean, and because no two are exactly alike, knowing which one to visit can set the tone for your entire vacation. Here's how to select the Hawaiian island that's just right for you and your travel companions:
Life's a Beach on Maui
Maui's world-famous beaches can range in color from white to red to black. Spend a perfect day sprawled on the sand catching some rays or head into the warm water.
Island Culture of Oahu
As the home of the state's capital, and Hawaii's busiest island, Oahu is often called the gathering place. As the heart of the islands, Oahu houses the majority of the population and many of Hawaii's most well-known attractions like Waikiki Beach, the North Shore, and Pearl Harbor. You'll want to explore Iolani Palace, the National Memorial Cemetery of the Pacific, and the iconic views from Diamond Head.
"Scene" It All at Kaui
Kauai is the oldest of the Hawaiian Islands and the farthest north in the island chain. Given its age, Kauai is full of valleys, mountains and cliffs that make for spectacular vistas. All along this dramatic landscape there are jaw-dropping waterfalls and rainforests that give rise to rainbows, so have your camera on the ready. We also heartily recommend the Big Island, since it serves up the most diversity: tropical rain forests and lava fields, jungles and ranch land.
Road Trip With the Top Down in Maui
If a day with the top down exploring the back roads is what you're looking for, then head to Maui and hit the Hana Highway or Haleakala National Park. We'd also recommend Highway 3 on Oahu for its mountain and ocean views.
Go Snorkeling On the Big Island
If you prefer the view from below the surface, we suggest you head to the Kona Coast of the Big Island, where snorkeling in the clear waters is among the best in the world.
YMT Vacations offers several Hawaiian itineraries that let you select the vacation package that's just right for you. To learn more about our group travel options or to make your plans to join us on one of our exciting journeys to paradise, contact a travel professional or call YMT Vacations at 844-416-6179.