---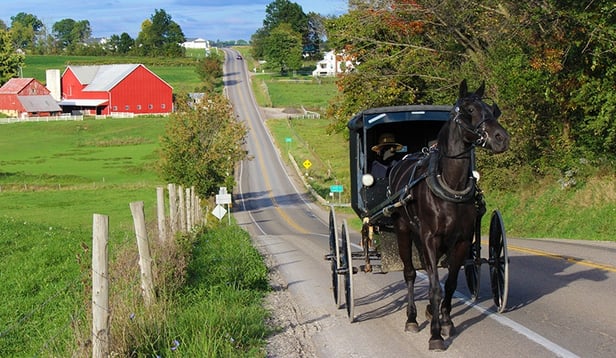 Following the teachings for a 17th century Swiss Protestant, the Amish are one of the three "plain" religions that make their home along the back roads and rolling hills of Lancaster County in Pennsylvania Dutch country. Affiliated with the Mennonites, which originated in Germany during the Protestant Revolution, the group eventually settled in William Penn's colony in Pennsylvania in the early 1700s.
---
Holding to the verse in James 1:27, which urges "to keep oneself unspotted from the world," the group abstains from modern ideas, customs, and technology. As a result, the community shuns televisions and cell phones, electricity and even cars. Men wear beards and pants with buttons rather than zippers and women have head coverings and modest dresses of solid-color.
Throughout Lancaster County, in quaint villages like Bird-In-Hand, communities still gather for barn raisings and quilting bees, as life seems to slow to the pace of their horse-drawn carriages. On your visit to south central Pennsylvania, make sure to take time to appreciate the way of life of these religious, hard-working, plain people with three must-do Amish experiences:
Learn the Authentic Way of Life at the Amish Village -- Unlike other "living history museums," Amish country is not a restored or reproduced community, but an authentic landscape that has remained relatively unchanged throughout time. Tour a one-room schoolhouse and a blacksmith shop, a red-sided barn and a smokehouse market. You'll learn Amish history and religious traditions on this guided cultural tour.
Enjoy Home-Cooked Amish Cuisine -- Simple Amish food is as honest as it is delicious. Enjoy oven-roasted chicken and shoofly pie, homemade apple dumplings and piping-hot Amish casserole.
Take in the Amish Countryside -- From the clip-clop of horses' hoofs to the beautiful bounty of roadside produce stands, life in Amish country is a far cry from the hustle and bustle of everyday life. Take an afternoon drive through 7,100 square miles of rolling farmland passed hand-raised barns, over covered bridges and through endless stretches of cornfields.
You can explore the Amish country on YMT Vacations' Autumn Leaves Tour. You'll begin your journey in Philadelphia, where you can tour the "cradle of our nation." Other stops on this 14-day itinerary take you from Niagara Falls to the Adirondack Mountains, New York City to coastal New England. Explore historical Boston, cruise the 1000 islands or simply enjoy the fiery colors of a lazy autumn afternoon. To make your reservation, call your travel agent or YMT Vacations at 1-888-756-9072.
---