---
There are a million reasons why a vacation is important. Stepping out of your comfort zone and experiencing the world is good for the soul, but did you know it's good for your health, too? That's right, the next time you ponder your dream vacation, you might want to think about how taking that vacation can actually improve your physical and mental health.
To make sure you get the full benefits of taking a vacation, don't be afraid to book an extended trip. The longer the getaway, the better. Some time away is just what the doctor ordered.
Vacations Reduce Stress and Help Prevent Heart Disease
It's easy to get caught up in the stress of everyday life. From paying the bills to answering emails, there's always something that needs to be taken care of. Those little things can pile up and do more harm than good, creating unwanted stress that weighs us down. The purpose of vacation is to help you lessen the stress you put on your body, which could have serious consequences.
In fact, many studies have found that both men and women who skip vacation time are more likely to suffer from a heart attack. Men at risk for heart disease were 30% more likely to suffer a heart attack if they skipped vacation time for five consecutive years. If a woman skipped a vacation for six years, she was "almost eight times more likely to develop heart disease, have a heart attack, or die of a coronary-related cause."
It may be hard to remember to take time for yourself, but it's important if you want to reduce the stress in your life. The benefits of taking a vacation far outweigh the unhealthy side effects that come with not taking one. You'll return feeling not only mentally healthier but also physically healthier and better able to tackle the tasks ahead.
Breaking Up Your Routine & Seeing New Sites Improves Your Mental Health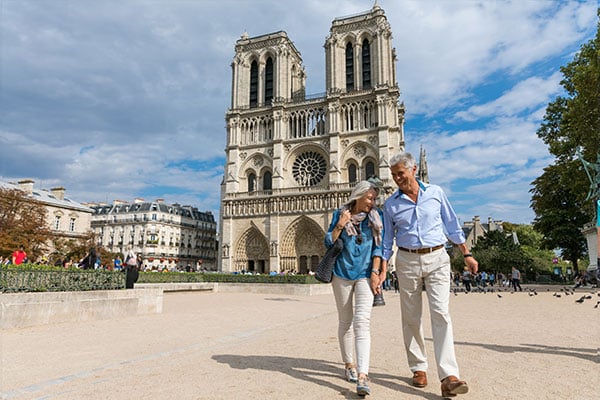 If you never take a break from your daily grind, you'll never realize what you're missing. Have you ever gone a whole day without checking your work email or phone? Maybe you think you have to stick around to walk your dog or water your plants, but that's what dog walkers, family, friends, and neighbors are for.
Taking a vacation gives your mind and body time to reset. Soaking up the extra Vitamin D on a beach getaway is great for your health, while touring new sites abroad will expand your mind. These little activities over an extended period of time will help reduce mental health issues like anxiety and depression.
Even if you are retired, you still need a break from everyday stresses. You've worked long enough, and now you have the benefit of unlimited time off. Month-long tours will allow you to see more of the world, especially if you're trying to get to destinations you've never seen before.
If planning an extended trip abroad seems intimidating, you're not alone. That's why it helps to book a guided tour with a trusted company that does the planning for you. Whether you've always wanted to explore Europe or you want to take it easy on a transatlantic cruise, there are options to suit everyone's needs. You might find an extended trip abroad gives you a new perspective and a second lease on life.
Taking Time Off from Work Makes You More Productive
Don't mistake working long, hard hours for being productive. The more time you put into your work, the longer the break you need. Even if you are retired, you may spend hours volunteering for local organizations or businesses. If you want to avoid burning out and losing interest in your work, it's important that you take time off.
By taking a well-deserved vacation, you'll give your mind time to rest. A well-rested mind is a happy one that is more likely to approach work with fresh ideas and renewed energy. An important benefit of taking time off is that your performance on the job will be stronger and more productive.
Non-Negotiable Time Off Means You'll Always Make Time to Get Away
If you're convinced you need to take a vacation but aren't sure how to begin planning one, start by picking when you want to travel. It'll be easier to plan a vacation once you know when you want to go. Be sure to get your days approved by your manager far in advance. If you volunteer, let your organization or business know ahead of time.
With dates on a calendar, you'll have more incentive to plan a trip and take advantage of those days off. Once you've picked your vacation days, view them as non-negotiable. Decide where you want to go and what you'd like to see while you're there. If you're planning to travel internationally, it's helpful to follow a detailed checklist that will help you figure out the important details of your trip months in advance.
Don't Delay Your Vacation to a Healthier You
You can never begin planning a vacation too soon. If you've picked your vacation days but aren't sure what to do next, read up on helpful tips that will make it easier to get started. You can also contact a YMT Vacations travel consultant at 1-888-756-9072, who will help you plan the perfect trip. Don't put off planning your trip. The sooner you get started, the sooner you'll be on your way to a happier and healthier you.
---