---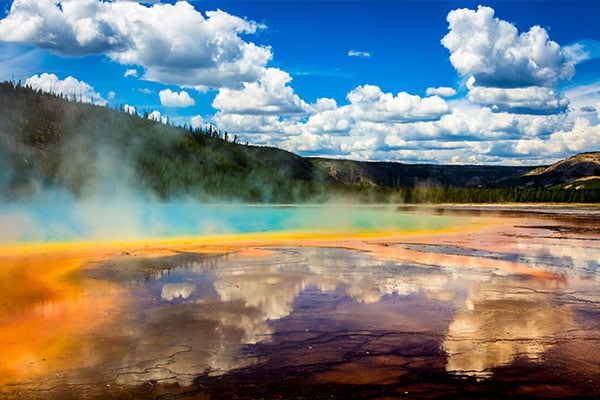 It's impossible not to enjoy a Yellowstone National Park vacation. The 2-million-acre park in the Wyoming wilderness is one of the most beautiful places on earth. Its wild terrain is diverse, with deep canyons, towering mountains, rivers, lakes, forests, and most famously, geysers.
There's so much to see in this magnificent national park, the third most popular park in America. If you're planning a trip to Yellowstone, this guide can help you have a truly memorable experience.
The Best Time to Go to Yellowstone National Park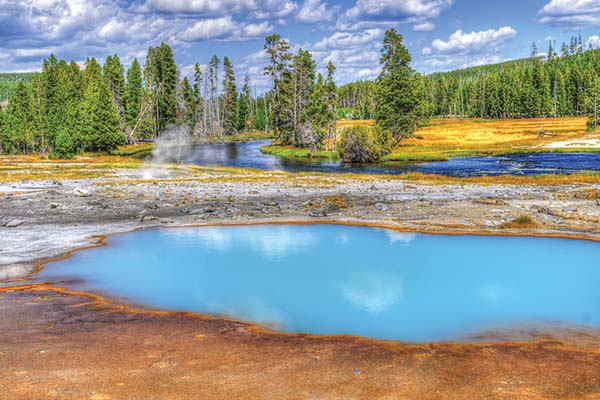 Yellowstone is beautiful anytime you go. Whether you visit for one day in the summer or a week in the winter, the park will take your breath away.
Weather at Yellowstone National Park
If you love experiencing the four seasons, this is certainly the park for you. The weather at Yellowstone National Park varies wildly across winter, spring, summer, and fall. Summer is the most popular time to visit, but each season offers its own appeal.
Spring
Springtime is pretty chilly, which leads to more wildlife and fewer crowds. Hibernating animals, like black and grizzly bears, are coming out of their dens and introducing their cubs to the world. You can expect to see hillsides carpeted with wildflowers, tender buds peeking out from the endless variety of deciduous trees, and plenty of incredible birds and mammals. Some facilities and roads are likely to remain closed through early to mid-spring, which makes wildlife viewing better.
March: 39.6°F–17.2°F
April: 49.4°F–26°F
May: 60.4°F–34.3°F
Summer
The most popular season to visit, summer offers the year's best weather at Yellowstone National Park. All of the park's roads and amenities are open, and the long days are usually sunny and quite warm and dry, save for the occasional afternoon thunderstorm. The comfortable temperatures and summer travel season attract nearly 30,000 people a day.
June: 70°F–41.2°F
July: 79.6°F–46.7°F
Aug: 78.3°F–45.3°F
Fall
After Labor Day, the crowds at Yellowstone drop off. The weather can stay very comfortable through October, when high temperatures reach into the 50s and 60s. The animals are very active in the fall, when love is in the crisp air. Elk and moose are especially feisty during their annual rutting season. Males on the lookout for mates can become quite aggressive, so if you see antlers, get out of the way!
Sep: 67.8°F–37°F
Oct: 55.7°F–29.4°F
Nov: 38.7°F–19.2°F
Winter
Winter in Yellowstone is starkly beautiful. Thick snow, icy waters, and moody skies transform the park into a harsh wilderness rather than a traditionally warm and sunny vacation destination. A lot of the park is either closed or accessible only by snowmobile. But the rewards for anyone willing to brave the conditions are definitely worth it. Dramatic views, near solitude, and rarely seen animals, including wolves, await the wintertime visitor.
Dec: 30.5°F–11.8°F
Jan: 28.6°F–9.6°F
Feb: 34°F–13°F


How Long to Stay in Yellowstone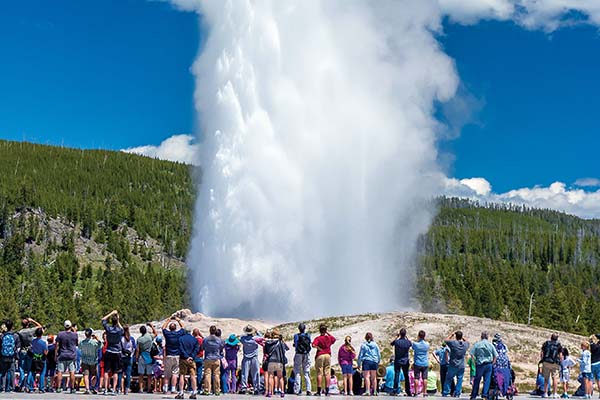 A 2-4 day visit is perfect. You have plenty of time to enjoy the park's most famous sites, and to explore less visited corners of Yellowstone. If you have less time, you can visit the highlights of Yellowstone in one day. Take Grand Loop Road connecting Old Faithful and most of the park's other geothermal features. Then head to Canyon Village, where you can see Hayden Valley, Yellowstone Falls, and the Grand Canyon of Yellowstone.
What to See at Yellowstone National Park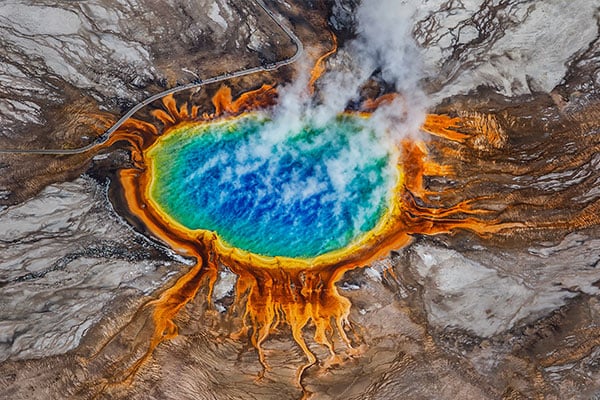 The main reason that 4.9 million people a year visit Yellowstone is to see animals and spectacular natural beauty. Old Faithful and bison traffic jams are just two of the memorable sights you're likely to enjoy.
Because of its location on top of a super volcano, Yellowstone is one of the most hydrothermally active places on the planet. The park contains most of the world's geysers, hundreds of hot springs, and numerous mud pots and steam vents. In addition, Yellowstone has millions of acres of forests and a complex network of rivers.
Old Faithful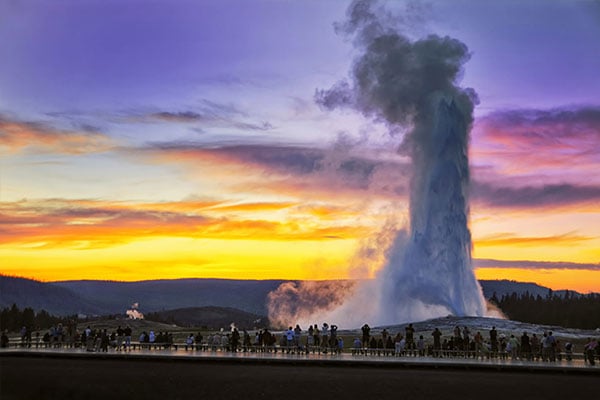 The most famous geyser in the world is also Yellowstone's most popular attraction. This cone geyser gets its name because it is one of the most predictable geographical features on earth. Old Faithful's approximately 20 daily eruptions last for around 5 minutes. Every 30-120 minutes, it hurls thousands of gallons of boiling water up to 180 feet in the air. Park rangers even offer a countdown for the next time you can expect to see Old Faithful go off.
To best predict when it will next blow, look for one of the park rangers. They regularly make the rounds of the Upper Geyser Basin, checking the status of the geysers. You can also ask a "geyser gazers." They are part of a team of volunteers who monitor the park's thermal features.
Yellowstone Falls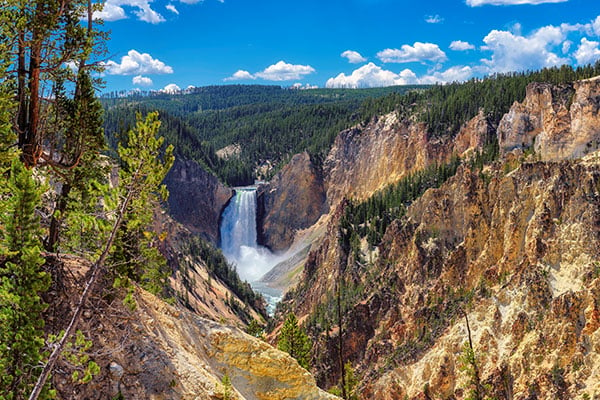 These twin forest-lined waterfalls are some of the most powerful in the Rocky Mountains. The Yellowstone River cascades first down the 109-foot-tall Upper Yellowstone Falls. It then tumbles 308 feet down the Lower Yellowstone Falls, which is more than twice the height of Niagara Falls.
Mammoth Hot Springs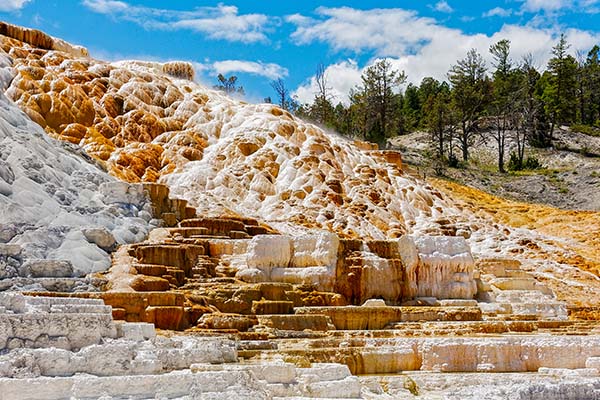 Walk the boardwalk of Mammoth Holt Springs past a wide variety of geothermal features. Steaming hot springs and fascinating travertine terraces gurgle away, while a strong smell of sulfur perfumes the air. If you want to go hiking around the Hot Springs, keep your eye out for elk and bears. Grizzlies, in particular, love this area.
Grand Prismatic Spring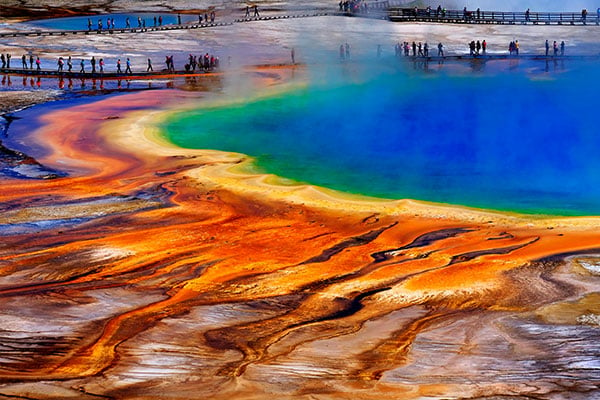 A rainbow radiates out from the center of Yellowstone's largest hot spring. The bright blue of the 160-foot-deep pool is lined by bands of green, yellow, orange, and red waters, surrounded by crimson rock. The water's distinctive colors are created by bacteria and makes for a truly awe-inspiring sight.
Animals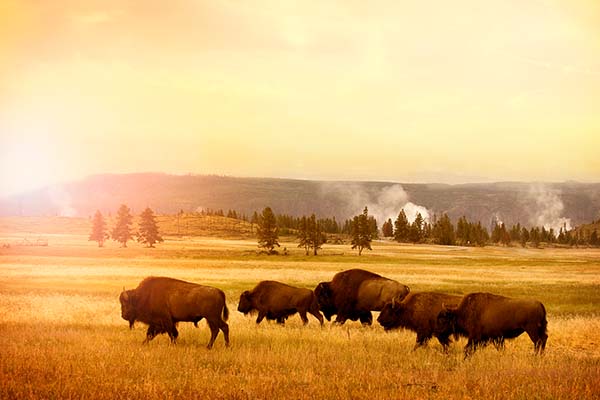 Yellowstone is a mecca for animal lovers. You are likely to see elk, bison, and smaller mammals and birds. But there are many other animals only glimpsed deep in the park. From the large bison herd so easy with people that it creates traffic jams to the almost invisible cougar, there are dozens of incredible animal species to see in Yellowstone, including:
Moose
Elk
Black wolf
Mountain lion
Mountain goat
Grizzly bear
Black bear
Bighorn sheep
Bald eagle
Canadian lynx
Bobcat
What to Pack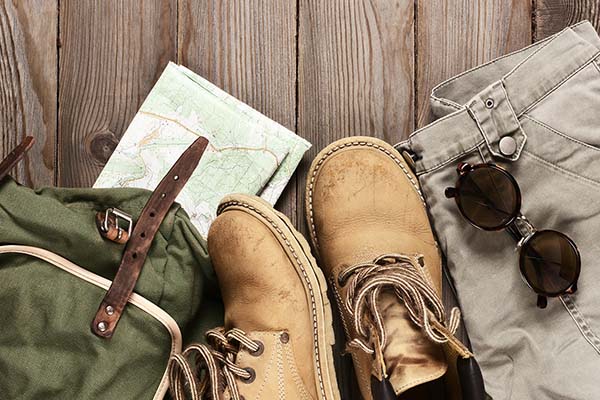 Because the park's temperatures vary so much by season, you'll want to base what you pack on when you visit. However, there are a few items of clothing, and other tools, that are appropriate year-round:
Layers: temperatures fluctuate wildly from day to night, and from week to week. You can't even rule out a summer snowstorm, so be prepared for anything!
Binoculars: to view animals and natural features alike
Sunscreen: the higher elevation makes UV rays more damaging, so slather sunscreen on. And be mindful that there is little to no tree cover around the park's geysers and hot springs.
Hat: whether to warm your ears or to keep the sun off your face, bring a hat!
Bug spray: this deep into nature, you can't avoid bugs entirely. But a good insect repellent can protect you from itchy bites and stings.
Good shoes: be sure to wear well fitting, comfortable shoes for long days on your feet.
Plenty of water: physical exertion at high elevation requires you to stay very hydrated.
Take a Yellowstone National Park Tour With YMT Vacations
There is likely nowhere on earth more beautiful than Yellowstone, and a YMT Vacation is the perfect way to enjoy it. Join us on our Rocky Mountains & Black Hills National Parks Tour, where you will spend a day and a half at Yellowstone. From watching an eruption of Old Faithful, Yellowstone National Park's most famous feature, to laughing at a humble mountain vole scampering behind a rock, a Yellowstone National Park vacation promises to be memorable.
Our National Parks tours are a fun and easy way to enjoy Yellowstone and numerous other parks. Just hold onto your hat and let us handle the details. To make your reservation, call your travel professional or YMT Vacations at 1-888-756-9072.
---