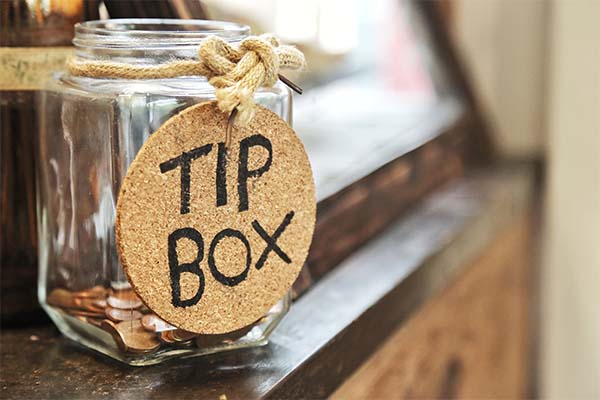 Guided tours make visiting new countries easy and convenient. Your tour company will take care of booking everything from transportation, hotels, and meals.
But there will likely be occasions where you go out with your new travel friends to have dinner or plan an excursion independently. During those times, tipping is a great way to show appreciation for the various services you experience abroad–but expectations differ across continents and may even differ among countries in the same region. We've compiled general guidelines on how to tip when traveling to various destinations below.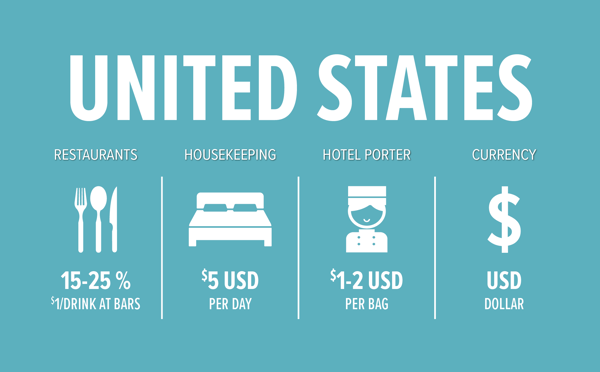 Tipping is a way of life for the hospitality and service industries in America. Workers are typically paid just dollars per hour and depend on tips. Below is an average breakdown of tipping in the USA for travelers:
Restaurants - When dining out, expect to add at least 15 to 20 percent of your bill at standard restaurants. That number may be closer to 25 percent for fine dining establishments. Tip your bartender at least one dollar per drink when sitting at a bar.
Hotels - $1-2 per bag for bellhops who bring your luggage to your room and about $5/day for housekeepers.
Currency Accepted - United States dollar (USD)
International Tipping Guidelines
Tipping guidelines can vary country by country and among different cultures. However, tipping etiquette can even vary greatly among locations that are geographically close to one another. Below are general hotel gratuity guidelines, waiter tipping etiquette guidelines and tipping guidelines for restaurants in several international locations.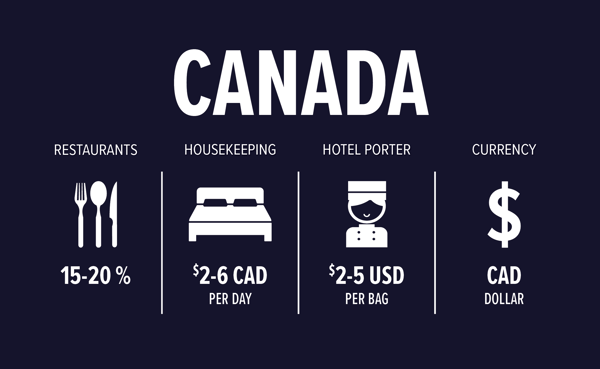 Tipping in Canada is similar to tipping the U.S. Expect to tip between 15 to 20 percent for many services.
Restaurants - As in the United States, the gratuity isn't included on your restaurant bill. The standard tip is 15 to 20 percent, depending on the level of service you receive.
Hotels - $2-$5 per bag for a bellhop, $2-$5 per day for housekeepers and $10-$20 per favor for concierges who go out of their way for you.
Currency Accepted - The Canadian dollar (CAD)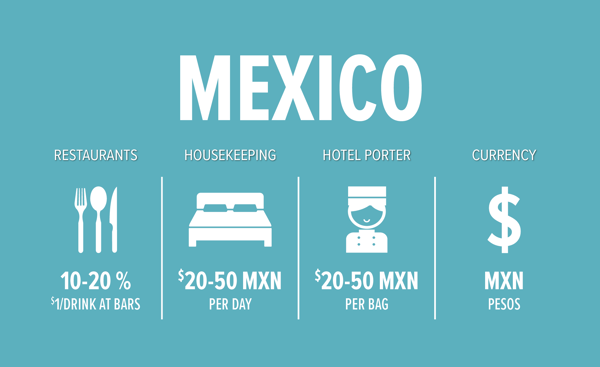 Providing a gratuity is the best way to show appreciation for quality service and the amount you tip is up to you. If your budget does not allow you to tip on the higher end, a smile and "gracias" goes a long way.
Restaurants - 10 to 20 percent and $1 per drink at a bar.
Hotels - About 10–20 pesos per bag for the bellhop (you can leave it at check-in if you won't be there when your bags arrive), 20–50 pesos per night for the housekeeper and a minimum 100 pesos for the concierge.
Currency Accepted - The Mexican Peso, some places to accept US dollars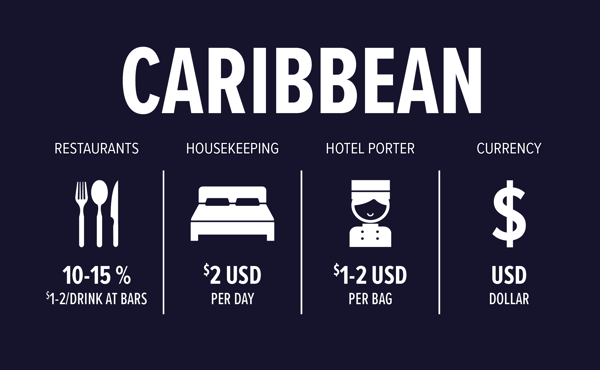 Tipping differs across countries in the Caribbean. In fact, service charges may already come included so review your bill carefully before adding a tip.
Restaurants - Leave between 10 to 15 percent for servers at restaurants and $1-$2 per round of drinks for bartenders.
Hotels - Expect to tip $1-$2 dollars per bag for bellhops and about $2 per day for housekeeping.
Currency Accepted - On many islands in the Caribbean, the Eastern Caribbean dollar is the legal tender. However, the US dollar is the most widely accepted currency throughout the Caribbean.

Another continent where tipping varies by country, look into specifics before embarking on your vacation because you may not need to tip at all! Generally, for countries that do expect tips, offer around ten percent at restaurants and $1-$2 Euros per bag for the bellhop. Leaving a few Euros for housekeeping staff at the end of your stay is appreciated, but not expected in some countries.
Here are some specifics on a few European countries:
United Kingdom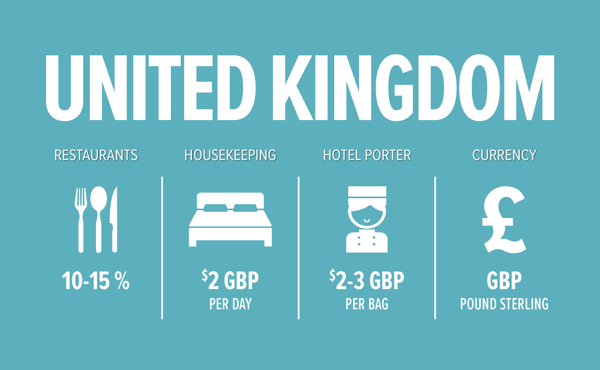 Restaurants - Leave 10 to 15 percent of your bill at restaurants.
Hotels - $2-$3 to hotel staff per bag, and the same for cleaning staff at your hotel.
Currency Accepted - Pound sterling
Germany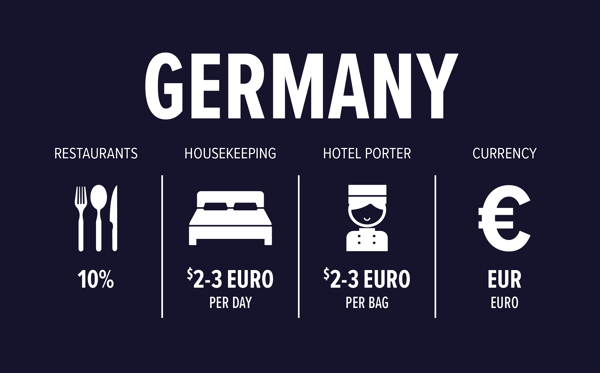 Restaurants - Ten percent is the average amount when it comes to tipping at restaurants.
Hotels - Two to three dollars per bag for bellhops, and the same for cleaning staff is standard.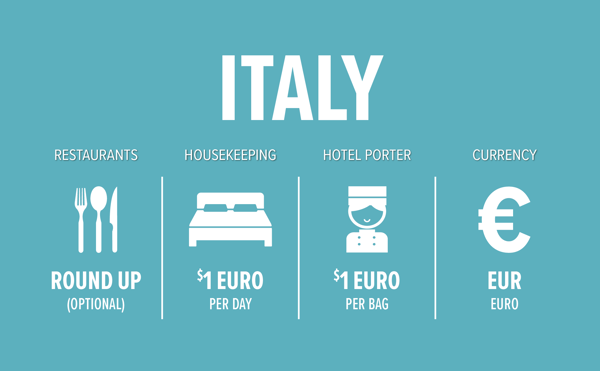 Restaurants - Tipping is not expected at restaurants. However, if the service was exceptional, feel free to round up on the final charge.
Hotels - One dollar per bag for bellhops and for cleaning staff is a nice gesture.
Spain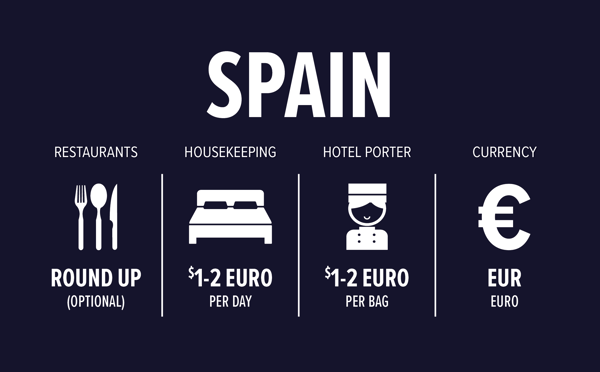 Restaurants - It is not customary to tip in Spain but leaving a dollar or rounding up on your bill is enough to show your appreciation.
Hotels - Tipping a dollar or two for doormen, bellhops, and room service is generous.
Tipping in South America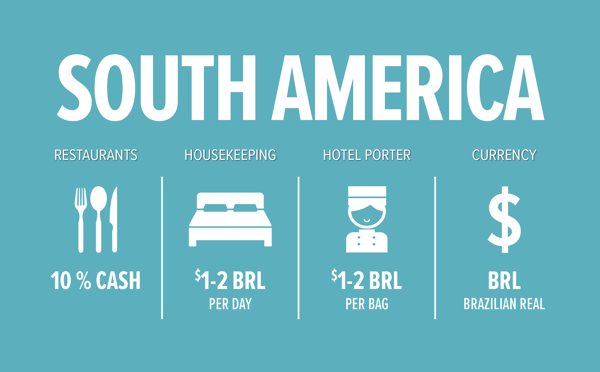 Cultural norms also vary within South America when it comes to gratuity. If you are taking an excursion with a local tour company, tip about $10 per person for half-day tours, and about $15 per person for a full-day activity.
Restaurants - When dining out, tipping ten percent of the total bill is standard and should be left in cash even if you are paying with a credit card.
Hotels - Offer $1-$2 per bag for the bellhop and $1-$2 dollars per day for housekeeping staff.
Currency Accepted - The Brazilian Real is the strongest currency in South America and is the only national currency of this region.
Tipping in Asia
This region can be complex because cultures and expectations differ widely. With growing tourism from Westerners, the norms relating to the hospitality industry are slowly changing. Typically a ten percent service charge may already be included on your bill in Singapore, but leave a few extra dollars if you wish to thank your server for going above and beyond.
Tipping across mainland China is rare and even banned in some places. In Hong Kong and Macau, gratuities are not required at restaurants as a 10-15% service charge is likely to be included on your bill. When taking a taxi, tipping is also not expected.
Japan's tipping culture is non-existent and attempting to tip may be considered offensive. Service workers in the restaurant, transportation, and hospitality industries are known to exceed expectations out of pride rather than in hopes of earning tips. If you wish to tip a local guide, present your gift in a nice, sealed envelope or offer a souvenir from your home country.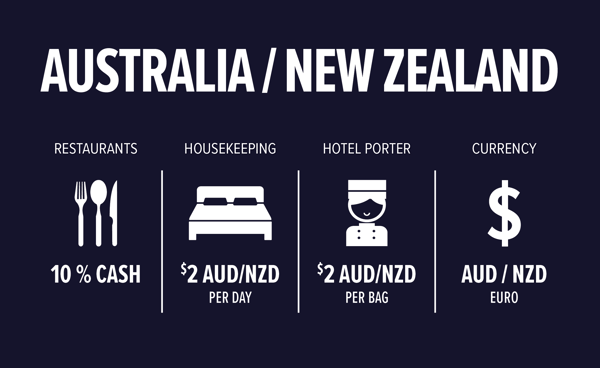 Service workers in Australia and New Zealand are paid adequately, and do not rely on tips for a decent standard of living. Tipping in Australia is not required, but with many US tourists in the country, a ten percent tip in restaurants is becoming the norm.
Like many other places around the globe, tip bellhops $2 per piece in local currency for luggage and leave $2 per day at the end of your stay for cleaners. In New Zealand, locals only leave tips for outstanding service, and the amount given is based on their discretion. Ten percent of the bill is common at upscale restaurants, while leaving some change at other establishments is acceptable. If you wish to tip hotel staff, $1-$2 dollars of the local currency is acceptable for porters and cleaning staff. Note: The local currency for Australia is the Australian dollar (AUD) and, for New Zealand, the New Zealand dollar (NZD).
If you are taking a guided tour, your tour guide will be able to provide additional guidance in various situations.
Traveling with YMT
YMT offers several tours within the U.S. and Canada and abroad. Get details about the wide array of wonderfully curated, affordable tour and cruise vacation packages we have available. To make your reservation to join us, call your travel agent or 1-888-756-9072.