---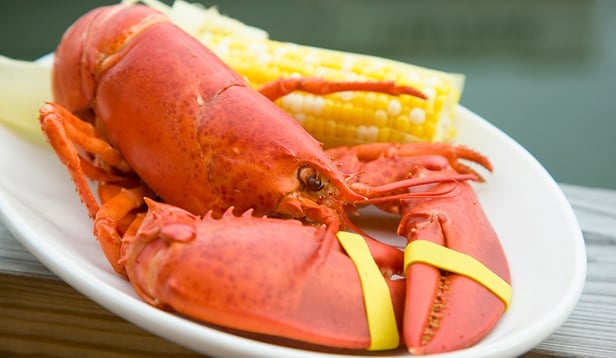 New England is known for its many flavors. From cranberry bogs to fresh-harvested apples, creamy chowder to a heaping mound of whole-belly clams, there is much to savor. But just ask any respectable Yankee about his favorite place to eat and chances are you'll get an earful about an out-of-the-way seafood shack and the perfection of a fresh-steamed lobster. So the next time you find yourself down east, order one up for yourself. But before you do, make sure you know how it's done. Here are a few easy steps that will have you cracking lobster like a native:
---
Wear a Bib -- Yes, it may look silly but bibs are used for a reason. There's a lot of water inside a lobster, especially the summer New Shells, and you don't want it squirting out unexpectedly.
Twist off the Claws -- Use a circular motion.
Crack and Dig -- Using a lobster cracker, break apart the shell of the claw and use the tiny fork at your place setting to dig out the succulent meat.
Separate the Tail -- After you've taken the tail off the body, break off the tail flippers and pull the meat from inside the flipper.
Use your Fork -- Push the tail meat out in one piece using the tiny fork and then discard the black vein that runs along the length of the tail section.
Pull Apart and Discard -- Separate the shell of the body from the underside and throw away the green substance known as tomalley.
Don't Forget the Legs -- For more advanced lobster diners, you can get that last bit of meat by extracting it from the leg joints underneath the body. The best way is to bite down on the leg and squeeze the remaining meat out with your teeth.
Clean Up -- With all the drawn butter and lobster meat, you'll need to wash those briny hands until the next time you enjoy New England's finest meal.
---
You can chow down on some fresh-caught lobster on YMT Vacations' New England and Canadian Maritimes Cruise & Tour. Your journey features a 7-night cruise aboard Norwegian Cruise Line's Norwegian Dawn and then a 7-night land tour of New England and Canada. You'll tour historic cities like Boston and Quebec City, and stroll along the shores of Cape Cod and past the famous mansions of Newport, Rhode Island. To make your reservation, visit our website, or call your travel agent or 1-888-756-9072.
---